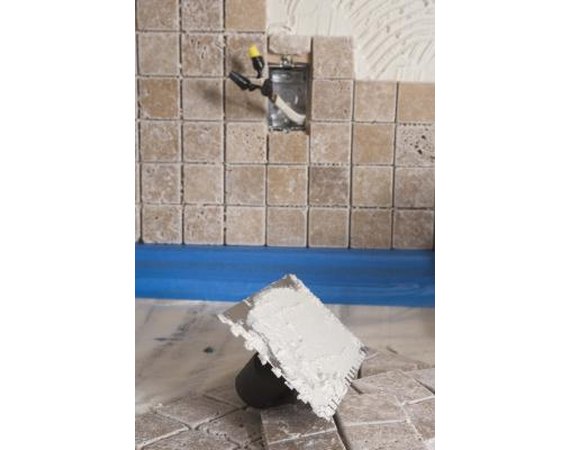 Backsplashes protect the walls above your lower fixtures from splatters and splashes, but todays kitchen backsplashes are more than just functional. Installing a backsplash provides an opportunity to make a design statement. Tile choices alone include glass, stone, porcelain, metal and ceramic -- and tile isnt your only option. Perhaps youd rather have mirror, river rock, reproduction tin ceiling tiles or a backsplash covered with chalkboard paint. Explore the wide range of backsplash ideas before making your final selection.
Retail Stores and Kitchen Showrooms
Retailers who sell kitchen backsplash products -- especially high-end kitchen showrooms -- are also some of the best sources for backsplash ideas. Expect to see samples of the various products on display, including mockups of the different ways to use them. The manufacturers whose lines the stores carry may also provide free brochures with additional ideas, as well as inspiration galleries you can view on their websites.
Kitchen and Interior Designers
Designers typically reserve their portfolio pages for photos of their finest completed work. For kitchen designers, as well as other design pros who do lots of kitchen work, those pages are typically full of backsplash ideas. Its bad form to accept a house call and personalized presentation if theres no chance youll hire the designer for the job. If youre looking for do-it-yourself ideas, just ask if you can go by and take a look.
Magazines
Decorating magazines -- called shelter magazines by those in the business -- are chock full of backsplash ideas in a range of interior styles. Browse the editorial pages of magazines inclined toward your particular tastes, as well as special interest publications featuring just kitchens or kitchens and baths. Bookmark the pages that interest you rather than tearing them out; the source pages with product information are typically somewhere near the back. Youll need them once you settle on a design. Publishers may also archive past articles by topic that you can view on the magazines website.
Television
If you have cable, you can watch television shows and entire networks devoted to home improvement and interior design. Since kitchen remodeling is a hot topic, youll see plenty of backsplash ideas. Television shows offer more than just high-end kitchen design. The shows focused on budget decorating are good sources for alternative and do-it-yourself ideas.
Show House Tours
If you live in a city, watch for decorator show houses you can tour. Show houses are real houses -- existing or new construction -- and theyre frequently available for sale once the tour event ends. Sometimes called idea houses, show houses usually feature the work of local interior decorators and designers who each work on a different room of the house. For rooms with more built-in features than furniture, such as kitchens, product retailers and manufacturers sometimes sponsor the events and offer their latest products for use in the house. Expect to pay a small admission fee to tour a show house. Local service groups often organize show houses annually to raise money for charity.